First Public Hydrogen Station Opens in CA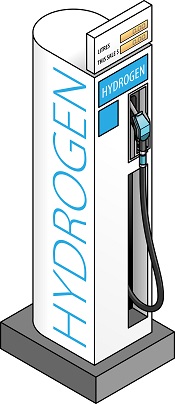 California's Zero Emission Vehicles program emphasizes the need for increased use of commercial Hydrogen Fuel Cell cars, which produce only water as tailpipe emissions and have a driving range comparable to that of conventional vehicles. The state has set aside $200 million over the next ten years to help fund the development of public fueling stations and plans to build 100 Hydrogen fueling stations statewide.
The Cal State L.A. Hydrogen Research and Fueling Facility has become the first Hydrogen station in California to be certified to sell fuel to the public. The station opened last May, and recently passed a rigorous state performance evaluation. The station is capable of producing its own hydrogen on site, and can utilize renewable forms of energy such as solar power and wind power.
This is an important milestone in the development of the Hydrogen vehicle market in California, especially since the first commercially available Hydrogen fuel cell car, the 2015 Hyundai Tucson FCEV, is now available for lease. Several other car makers have also announced that they will release their Hydrogen fuel cell vehicles in the months and years to follow.
For more information about the Cal State L.A. fueling station, click here.
Life Cycle Associates reviews and develops business opportunities for new and existing hydrogen technologies. We have a team of experts to help with technology assessment, market analysis, competitor analysis and market entry strategy. Feel free to contact us for more information.