Limestone contribution to CI of biofuels
The life cycle inventory (LCI) for limestone has been a matter of discussion for many years. The greenhouse gas (GHG) intensity from CA_GREET1.8b is 363,600 g CO2e/ton of CaCO3 compared to 12,900 gCO2e/ton in CA_GREET2 and GREET1_2014.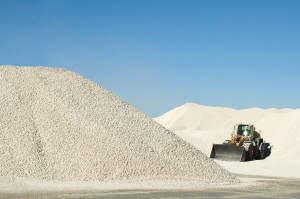 The difference in the LCI data stems from old assumptions where the energy inputs for limestone were similar to those for potash production. Limestone is surface mined and potash is shaft mined; so recovering limestone is less energy intense. The contribution of limestone in the corn ethanol pathway is therefore much lower in the new release of GREET.
Limestone and CO2  Emissions
Limestone used to treat acid soils can also result in CO2 emissions.  The material is used as an agricultural amendment for acidic soils, which react with the carbonate ion to release CO2. The older version of CA_GREET assumed 100% of the carbon in limestone was converted to CO2. The ARB announced that this input was changed to 49%. Since 44% of limestone is CO2, this affects the carbon intensity (CI) of biofuels as well.