EPA Simplifies RFS Petition Review Process for Capacity Expansion under the RFS
Many biorefineries operating today generate RINs with grandfathered status under the Renewable Fuel Standard (RFS).  A number of facilities are considering expanding capacity but the new capacity will need to demonstrate GHG reductions that comply with the RFS.  Previously, verifying the GHG emissions involved petitioning EPA, which was a time consuming and uncertain process.
EPA determined GHG emissions for biorefineries under the Renewable Fuel Standard (RFS) program  through a consequential life cycle analysis (LCA).  The modeling combines the emissions from the biorefinery based on the GREET model with agricultural emissions based on the FASOM and FAPRI model.  The relative contribution of the biorefinery and agricultural emissions is shown for several corn ethanol and biodiesel options.  The emissions depend on fuel consumption from the biorefinery, fuel conversion yield, and the associated upstream fuel cycle emissions.  While the details of the LCA are quite complicated, determining the emissions from an individual biorefinery is a straightforward exercise.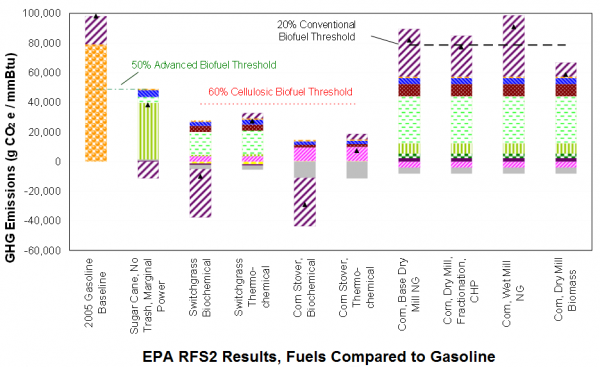 Very few plants qualify for the categorical definitions outlined by the EPA (for example ultra high yield corn oil extraction combined with CHP would provide a category qualification to generate D6 RINs). The challenge for many corn ethanol plants is that the facilities are very close to the 20% GHG reduction required to generate D6 RINs.  Several dry mill corn ethanol plant configurations achieve the 20% reduction threshold including efficient plants, high sales of wet DGS, biogas process fuel, to name a few.
Over the past six months the EPA has been working to improve the quality, transparency, and efficiency of it's petition review process for new biofuel pathways under the RFS.  EPA has just released an updated New Pathways website that reflects the results of that process.  Some of the highlights of these changes include:
Petitions can now be submitted electronically through the secure CDX/OTAQREG online portal
EPA has developed a new Pathway Screening Tool, which is intended to improve the petition process by giving potential petitioners a way to receive tailored information from the Agency before they start preparing their petition
EPA has drafted step-by-step instructions for how to prepare a complete petition
For more information and to learn how we can help you, please contact us.